Saturday, October 29, 2011
Quote tattoos are one of the most frequently seen script styles. This design usually shows short, one line phrases that have a deep meaning to the wearer; they may also have short chapters, lines or quotes from longer books or texts.
One example of the longer style is religious quote tattoos. These often feature excerpted quotes from prominent biblical figures; they may also include words of wisdom from Buddhist, Judaic, or Hindu scripts. These are sometimes done in their native tongues, but are usually translated into the wearer's most fluently spoken language. The letters for this style range from bold Gothic script, to a soft flowing cursive, and generally show the quotes by themselves. However, some people prefer to create a border around their quotes. These borders may represent symbols from their chosen religion, or they may simply feature designs or patterns that the wearer finds appealing or attractive.
Many people prefer quote tattoos that feature either famous or obscure sayings from their favorite authors, philosophers, or even their favorite films. These quotes often express something that speaks to the wearer — whether it be something that touches them, or amuses them. Some of the most popularly quoted thinkers include Oscar Wilde, Plato, Aristotle, and Friedrich Nietzsche. One interesting take on this particular style would be to use quotes from some of the better known psychologists, and perhaps even cull these quotes from some of their more controversial texts.
Most people prefer quote tattoos that feature saying that express who they are as individuals, or certain characteristics they see in themselves. Some of the most popular of these quotes include saying that represent fighting through adversity, strength and courage under pressure, and an unyielding hope for the future. Many of these quotes are by known authors; however, just as many remain anonymous, while other people may quote those that are dear them such as family members, children, or friends.
Love and freedom quote tattoos are also quite popular, and are often surrounded by items that represent a visualization of the words themselves. You might see a short quote written in cursive and shaped into a scrolling heart; you may also see bird wings sprouting from the edges of a quote about a free spirit. For a more unique approach to either of these symbols, you could simply show the words etched into either of these symbols to create a more permanent look.
The more tattoos you see, the more quote tattoos will become obvious. Although quotes may not be the central point of any given piece, many people like to include them to enhance their art, and give it a little extra meaning.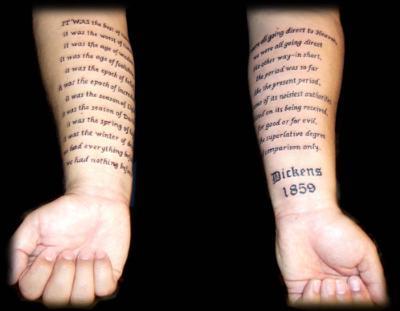 I have one tattoo. Who knows, I may plan to get more. Maybe I will make my body a shrine to all of the great authors work that inspired me along my journey. The words of many great leaders, constantly ring in my head. This is the collection of 12 powerful yet simple quotes that shine light on my path. There are millions of great quotes, but I believe you will find these quite special.
Do I think every entrepreneur should get these quotes inked on their body? Obviously it's your choice, but it is better than some of the weird ass tattoos I have seen people stamp on themselves. This is permanent. Life is not. If you do not decide to carry these quotes on your body, I recommend to reference them continually to guide you on your journey to success.



People pick the tattoo designs according to their very own design. All folks needs to be totally different and unique and for this reason, they plan for tattooing their our bodies with an amazing and inviting tattoo design.

the most common tattoo design, which is turning into widespread from couple of yrs, is tattoo charges. before going to tattooing any remark, you wish to determine which theme you need to decide on for the statement. you will have a myriad of option during which that you may decide the selected quote. As an example, that you may just choose the quote with regards to love, automobiles, faith and so on.

getting rates tattooed in your physique is becoming more and more famous. Why would one need tattoo fees? let me solution these questions and provide you with some excellent tattoo fees recommendations.